One of our most popular areas that we service as part of our soft washing business is Johns Island.   In fact, our first ever job was a Johns Island pressure washing home that we did when we opened in 2015.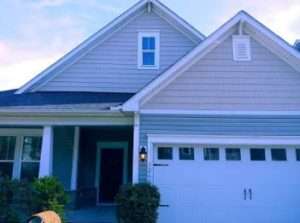 Much like the surrounding areas of Wadmalaw, Seabrook and Edisto Islands, John's Island is home to some of the most beautiful homes in all of Charleston County.
With the same landscape and wildlife that makes Johns Island a beautiful home too many residents and businesses it also brings in a ton of dust, dirt, pollen and debris from the wildlife and the breeze off of the Atlantic Ocean.
Pressure Washing John's Island Homes
Much like many other of the "island areas" of the low country, the tropical environment that surrounds Johns Island makes for a ton of wear and tear on homes and businesses on John's Island.   With this in mind, it is important for home owners to keep up with at least a yearly pressure wash and residents in some areas we recommend getting their home pressure washed once in the spring and in the early winter.
Johns Island Soft Washed Home
As part of our Johns Island pressure washed homes portfolio, we like to showcase our work to potential customers as our goal is to be the top pressure washing company on Johns Island.   With that being said, we have picked one of our homes to highlight our work.
Home Background
One thing that we love about working on Johns Island is the diversity of homes that we have seen and worked on the island.   This particular home is one of the newer homes on Johns Island and was a home built on one of the many beautiful new developments on the Island. 
While many homes on Johns Island have similar builds, almost all of the homes in the newer development have different builds then their neighbors.  This home in particular had a very tall main area, surrounded by smaller roof areas on each side.
Our customers had purchased the home and made many upgrades since moving in just a few years earlier.  One thing they were having difficulty with is keeping the home clean, due to the local environment.   Let's take a look at some before and after pictures to see how we were able to help the customers.
Pressure Washing the Eaves
Like many homes that we work on in some of the Island towns in the low country, this home had trouble keeping their eaves looking brand new.  Because the eaves were bright white, a few seasons of low country weather, along with the environment had the eaves full of pollen, dirt and insect residue. 
Because eaves are a huge problem area for a majority of our customers it is something that we almost always make sure to rinse and wash twice as we make our way around the home.
When we work on any home with white or light colors, we are able to get almost all of the dirt and grime done with our first wash, but we like to give a second coat to make sure no residue shows up the next day.
As you can see from the pictures, we were able to pressure wash the eaves to give them a look as if they were brand new.
Pressure Washing the Porch
Like many other homes on Johns Island, this home had beautiful brick and wooden poles decorating the porch.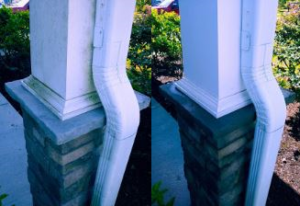 When pressure washing a brick porch, it is important that you take the time to get in between every possible brick as there is often a ton of dirt and grime built up that you often cannot see with the naked eye.   Unlike many other local companies, who often skimp the details of pressure washing brick, we strive to get off every piece of dirt from the brick as possible.
After thoroughly pressure washing the brick, we finished the wooden poles with our wash that was able to get the poles looking nice and new as you can see from the pictures.
Pressure Washing the Siding
After completing the roof and the other exterior parts of the home, our main focus, per our customer's request, was to work on removing all of the pollen and debris from the siding of the home. 

As we touched on earlier, the siding of many homes on Johns Island seems to be a big trouble area due to the tropical environment of the island.
This home in particular was surrounded by many trees and pollen was noticeably visible on most of the siding, just like almost all of the other homes in the development.
Similar to how we treat the rest of the home, we pay close attention to get every possible square inch of the siding to help the customer get their home looking new as possible.
As you can see, the siding from the pictures show the huge difference that pressure washing the siding can do for a home.
Wrapping it up
Like all of our Johns Island customers, we had a pleasure working on this home and were able to wash everything to the owner's expectations.
If you are looking to have your Johns Island home pressure washed, or if you live in any other area of the low country, feel free to give us a call at 1-843-696-6121.