Brick Cleaning Services is one of our specialties at Soft Wash Pros.  Read below on why soft washing is the best method to clean your bricks.  
For more reviews check out our profile on Thumbtack.com
As one of the oldest areas in the South, much of Summerville and the Charleston area were built on bricks.   One part of our business that has been extremely popular is brick cleaning services.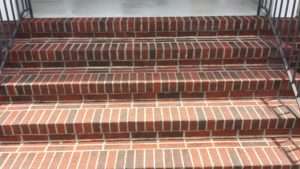 Many of the low country's most beautiful homes and streets were hand built with bricks many years ago.   Soft washing bricks can be one of the easiest ways to spruce up your home or business as they can be made to look brand new with a simple cleaning.   Unlike traditional pressure washing, which can cause wear and tear on older bricks, soft washing bricks is a great alternative way of cleaning your bricks to look brand new.
We like to pride ourselves in being the best Summerville brick cleaning service on the market.  Here are just some of the things that you can expect from us. 
Let's take a look more in-depth at the brick cleaning services that we offer
Low-Pressure Brick Cleaning:  Most brick manufacturers suggest that they not be cleaned with pressure over 400 PSI (pound per square inch).   Our soft washing equipment is approximately 100 PSI and will not provide any wear and tear on your bricks.
Cleans the Hard to Reach Spots:  If you have ever worked with bricks, you can attest to the fact that no two brick layouts are the same.   Because bricks are hand-built, sometimes hundreds of years ago, each comes with its own layout.  A soft washing is the best method to use to clean all the hard to reach spots in between bricks that a traditional pressure washer simply can't reach.
Great for Chimneys:   Cleaning brick chimneys is a great way to spruce up your home without breaking the bank.   Soft washing chimneys can make a 100 year old chimney look like a brand new chimney in a short amount of time.
Cleaning bricks is just one of the many cleaning services that we offer.  If you are interested in learning more about how we can make your bricks look brand new, give us a call at  1-843-696-6121.