Charleston Pressure Washing
Case Study of Pressure Washed Home in West Ashley area of Charleston, SC 
Ranked as the " #1 City in the World" by various news outlets over the past few decades,  we are proud to call Charleston, SC our home.   Over the last few years, we have worked to become one of the top Charleston pressure washing companies and have worked on a wide variety of houses throughout Charleston County.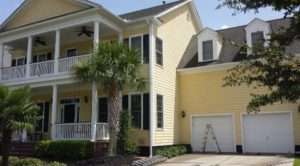 We often get asked by customers about what we love best about being a pressure washing company in Charleston and one thing that comes to mind first is the diversity of homes we have worked on in the Charleston area over the past few years.
Known for its rich history, we have soft washed some of most famous historic homes in Charleston and got to see many places that others don't get a chance to see through our work.
Pressure Washing Charleston Homes
While we would love to say that we work full-time on the multi-million dollar mansions that are located in downtown Charleston, our "bread and butter" continues to be working for the middle class people that make Charleston a great city.
As an educator in the Charleston County School District, I pride my company in working with the hard working people around Charleston.  Teachers, military, police officers and other first responders make up a large majority of our business and we take pride and helping them keep their homes clean.
One thing that we love doing at Soft Wash Pros is showcasing some jobs that we have done to help our future customers get a glimpse on how we can help them pressure wash their home.
Below we will walk you through a typical home that we soft washed in Charleston, SC
Home Background
The home that we worked on is a home in a newer development in the West Ashley area.   As a bright yellow home, this two-story home had a lot of built up dirt on the roof and the eaves of the home.   While this home still had excellent curb appeal, the dirt stood out as the home had a large roof and two covered porches that were the main draw of the home.
Like many large homes that we have pressure washed in West Ashley, the customer does a great job of landscaping and keeping the home very clean, but the top areas of the home can get a layer of dirt after a few seasons  of typical "Charleston weather".
This home in particular already had a great overall look, but there were many problem areas around the eaves and upper parts of the home that we were able to address.
Pressure Washing the Roof
When pressure washing a home in Charleston, one common theme that we have noticed is that many of the roofs take a ton of wear and tear from a number of various factors.    The heat, storms and pollen all take a toll on these roofs and they become dirty very quick.
This particular home had a ton of roof space and lots of gutters that were filled with pollen.  Fortunately for us, they weren't situated in an area with large trees and the gutters did not have the typical tree debris that is found in many homes in Charleston.
With a roof this size, we were able to give it two coats of pressure washing one right after the other as by the time we finished the roof, the first part of the roof was pretty much dry from the heat.
When pressure washing a roof this large, it is always important to go over each area after drying, as many spots are missed during the first coating. 
Pressure Washing the Eaves
When pressure washing eaves,  especially pressure washing eaves in Charleston,  it is necessary to cover every square inch as most of them have many months (or years) of buildup from the conditions in our area.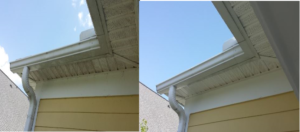 One problem that we see from traditional pressure washing companies that advertise in Charleston is that many of them will damage eaves of the home due to the high water pressure that they use when pressure washing and the types of chemicals that are used.
Our company uses a "soft wash" which not only uses much less water pressure, but we also use safe detergents and cleaners that will not strip off the paint on your home.
Pressure Washing Pillars 
One area of major concern when we pressure wash homes in Charleston is that there are many homes with high vaulted pillars that become very dirty due to the customers inability to reach the problem areas.  
Just like a roof, when using a soft wash on pillars, it is important that you work with a company that has the capabilities to reach all areas of the pillar, no matter how high they are.
When pressure washing the pillars of this Charleston home we were able to get rid of many spider webs, dust and grime that had built up since the previous pressure wash.
Finishing the Home
Like many of our large homes that we work on, we will often take two days to complete the project to our customers liking.   Many times a home might look good when it has just been pressure washed, but many spots will be visible when everything dries.
Our goal at Soft Wash Pros is to make each and every home immaculate and that is why our attention to detail is how we separate ourselves from many other Charleston pressure washing companies.