A dirty roof can make or break your home.  Check out how we can make your roof look brand new. 
For more reviews check out our profile on Thumbtack.com
Often the most neglected part of a home is the hard to reach places.  When it comes to the exterior of your home,  we find the most neglect on the roof of almost every home we clean.  With that being said,  we have a way to help you out as our roof cleaning services are rated among the best in the Summerville area.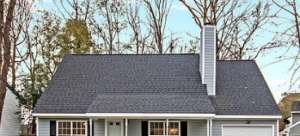 Realtors and home buyers often cite roof problems as the reason that many homes don't sell as quick as they should or don't get the money that they are worth.  In our new day and age, many new homebuyers want a fully functional house and they seem to judge a dirty roof as not only a major turnoff, but a potential money pit if something happens to the roof.
As one of the most respected Summerville roof cleaning businesses, we pride ourselves in being able to get your roof looking brand new after we our done. 
Let's look at how we can help you meet your roof cleaning needs.
Full Roof Cleaning:   As part of our best selling home cleaning package, we offer a full roof cleaning no matter how high the roof.  If you someone that cleans your roof from the ground with a hose or pressure washer, you will often miss the hard to reach spots that can only be seen when someone goes on your roof.
Less Pressure than traditional pressure washing:  If you have ever seen a high powered pressure washer being used on a roof, you will know how easy it can be to rip off shingles and other materials off of the roof.   While other parts of a home can withstand a typical pressure washing, a roof cleaning done with low pressure soft washing device is by far the best thing that you can do for your roof.
Instantly Adds Value to your home:  Take a drive around some of the nicer neighborhoods in the Summerville/ Charleston area and you will notice plenty of homes that look nice from the outside but have all roofs.  Many older home owners simply can't clean their roofs anymore and they will often be filled with tree debris that can make the whole house look less appealing.
If you are just trying to clean up your home or if you are looking to sell your home,  a roof is often the most valuable part of your home.   A major roof problem cannot only sink your wallet, but it can dramatically decrease the value of your property.
If you would like to learn more about how we can make your roof look brand new.  Give us a call 1-843-696-6121.