Summerville Pressure Washing
Case Study of Pressure Washed Home in Summerville, SC
The team at Soft Wash Pros has been proud to be ranked as one of the top Summerville pressure washing companies over the last 4 years.   With over 60% of our work being done in the town of Summerville, we have become one of the top pressure washing companies in Summerville, SC.
Based out of Summerville, we have been able to work on a diverse number of homes in the area.  We have done some pressure washing on homes in the downtown Summerville area that date back several hundred years, while also being the main pressure washing company for new homes being built each year in Summerville and surrounding areas.
One thing we love the most about working in Summerville area is the diversity of places that we are able to help on a day to day basis.   We have worked with a number of local businesses, along with private residents to help them upgrade their property through the use of our soft wash system.
One reason why many customers in Summerville choose Soft Wash Pros is that the system that we use to clean their home is very delicate on many older building materials.   While traditional pressure washing can damage many of the roofs and sidings of old homes,  soft wash pros uses a combination of cleaner and detergent that will not harm any surface.
Summerville Pressure Washing Case Study
Below we have a case study of one home that we have worked on in Summerville.  Like many homes we have pressure washed in Dorchester County, this home has great curb appeal but has a few years of built up wear as a result from the environment.
Unlike many newer neighborhoods, where most trees are cut down by builders, this particular neighborhood is filled with many older trees.  While the trees are beautiful for the environment, they also bring tons of debris, wildlife and pollen that are not great for your home.
These particular home owners were an older couple who was having trouble with the buildup of dirt and grime on their porch, garage and siding.   Let's take a look at home we in Summerville we recently soft washed.
Pressure Washing the Garage
The garage was perhaps the biggest area of concern for the homeowners as it had lots of dirt buildup on both garage doors.   While the homeowner tended to clean his garage regularly with a hose, he could not keep up with it like he liked.

When pressure washing a garage, particularly in areas with high pollen, we typically do up to 2-3 treatments during our pressure washing session.
For this garage we gave it a good initial spray, followed by our traditional soft washing we use on garages and followed it up with another round of pressure washing before we completed the job.
Any area of high use such as garage doors or front porches, we typically like to go over a few times to get all of the grime possible.
As you can see from the after pictures, we were able to remove all of the dirt and grime that had built up from this process.
Pressure Washing Brick Stairs
One thing that we love about older Summerville homes is that many of them incorporate bricks beautifully into the overall landscape of the home.
With this home in particular we loved the traditional brick steps leading to the front porch, as it made the overall appearance of the home very appealing.

When pressure washing brick stairs, it is important to get in between every possible brick. Many older brick staircases will often be neglected which can actually wear down the brick steps.
The best thing about soft washing bricks is that they often look brand new when finished.  As you can see from the pictures, the dirt from countless stair trips was easily cleaned off with the pressure washing.
Pressure Washing Arches
Like many older homes in the Summerville area, this home had beautiful wooden arches that added to the overall look of the home.
One thing that we have found is a big problem with exterior arches is that many tend to become inhabited with bugs, birds and other parts of nature.
When pressure washing these particular arches we found that they were filled with spider webs and other bug debris.
Many hard to reach places such as high arches in homes will often get dirty and are very hard to clean for the typical home owner.
Overall we were able to clean the arches completely and the homeowner was satisfied by how well they cleaned up despite the buildup of dirt and grime.
Pressure Washing Siding
Much like the arches of home exteriors, the siding of a home often get lots of wear and tear from Mother Nature.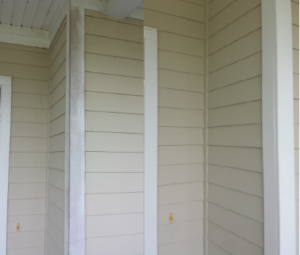 As you can see from the pictures, the siding of this home had a ton of pollen buildup, while also having other grime.
Home siding is often a major concern for home owners as it is often the first part of a home that people noticed, especially if someone is looking to sell their home.
Wrapping It Up
As one of the best pressure washing companies in Summerville, our goal at Soft Wash Pros is to not only educate our customers, but to gain customers for life.   We hope this breakdown of some of our pressure washing services can help you see the work that we do in your area.