One of the areas that we have had tremendous growth in over the last few years is the Ladson, SC area.  As an area that is rapidly on the rise, there has been a ton of Ladson pressure washing jobs that we have completed in both newer and older homes in the area.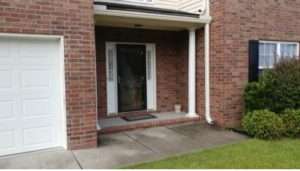 The home that we worked on is through one of the landlords that we work with on a regular basis.  For anyone that works as a property owner or manages multiple properties it is important that they have a team of regular service people that they can trust on their homes.  
Pressure Washing Rental Properties
One of the deals that we offer to this particular client, as we do any other who gets multiple homes, is that we give him a discount for the entire rental properties that we pressure wash for him.   With that being said, we have developed a great relationship with clients that we work with. 
When providing pressure washing services to this particular home in Ladson, the landlord wanted to focus on getting the house spruced up as he was having one renter move out and putting the house back on the market as soon as possible. 
Becoming the Best Pressure Washing Company in Ladson
As an educator in the Charleston County School District my goal was to start a profitable side business as I continued working as a full-time teacher.   As my company has expanded over the last few years, I have developed so many relationships  that I have gone to full-time as I strive to become the best pressure washing company in Summerville/ Ladson area. 
With our company growth there comes new opportunity as we have expanded to serve over clients every year, many of them repeat customers.  
While we have been a major Ladson pressure washing company the past few years our goal has to grow online and separate ourselves from other companies in the area. 
Serving our Clients Needs
Below is just another example of the work we completed and how our soft wash services can help your home.   Please visit our other pages and our Facebook page to see updates on the homes and businesses that we continue to wash.