Let us help you clean your hard to reach gutters. Check out more below on how we can help your gutter/ roofing needs. 
For more reviews check out our profile on Thumbtack.com
One of the most hated jobs for any homeowner is dealing with gutters, especially ones that are in hard to reach spots of a home.   We are here to help as we offer one of the few full-service gutter cleaning services  in the Summerville area.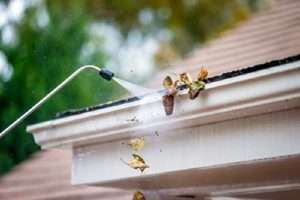 Clogged gutters can not only be a major eyesore, but can also cause several thousands of dollars worth of damage to a home if they are not treated properly.  While leaves, tree material and grime can not only build up in a gutter, but they can cause gutters to not work properly which in turn can cause major roof problems to your home.
As the top Summerville gutter cleaning service in the area, our goal is to rid gutters of all stains and blemishes that occur from Mother Nature.  
Let's take a look in how we can help you to clean your gutters and make your home look better than before.
We clean hard to reach gutters:  No one likes to clean gutters, and most people want to avoid going on their roof if at all possible.  This is where we can step in and completely clean your gutters in the most hard to reach areas.
Prevents major roof damage:  Gutters are an essential outlet for many roofs, as they provide the best way for water to run off without harming your siding.  A clogged gutter can not only build up and fall off, but it may prevent your roof from draining properly, which can result in a huge bill for roof repair that could have been prevented.
Adds to curb appeal and home value:   Many folks that are looking into buying a home often check the condition of the gutters to see if this will become an expense.   Gutter problems usually equal roof problems and one way to keep both of these working like they should is to have your gutters cleaned on a regular basis.
Cleaning gutters can be a chore for any home owner, especially when they start to become a problem.  Nip the problem of dirty gutters in the bud and give us a call at 1-843-696-6121 to see how we can help keep your gutters working like they should.