Are soft washing services are the bread-and-butter of our business.  Learn more about the difference soft washing can make. 
For more reviews check out our profile on Thumbtack.com
Our pressure washing services are different than the traditional pressure washing as we our one of the only soft wash services in the Summerville, SC area.   Much like other technologies, each year the popularity of traditional pressure washing has been exceeded by soft washing.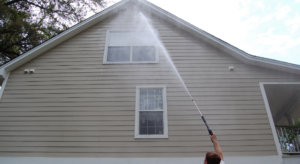 If you are new to soft washing, we could give you the gist in one sentence.   Soft washing offers a safer, cheaper alternative to pressure washing with the same results.  Here is a more in-depth look at why soft washing your home can help.
Less wear and tear on home:  Traditional pressure washers can have up to 4000 PSI (Pounds Per Square Inch), while a soft wash has around 100 PSI.   While a few pressure washes may not seem like much, the wear and tear on siding and roofing takes a toll as the power of the water can start to peel away material over time.
Same Results:   If a high PSI meant a better clean, no one would even bother with a soft wash cleaning.  But a soft wash is able to provide the same look of a high powered pressure wash, without the potential damage to your home, roof or driveway.
No Harmful Chemicals:  Ever smell a freshly pressure washed home?   While it may look great, it also has a ton of chemicals on it.   Soft washing is different in that it uses purely water based solutions that eventually dissolve into the air.
Low Priced:   Because the cost of soft washing is cheaper for the company,  we can match prices with any other Summerville power washing company around.   Show us a quote from any established power washing company in Charleston/ Summerville area and we can match or give a better price on your needs.
As one of the first soft washing companies in the Summerville area, our goal is to be the best.  We are backed by many 5 star reviews and three years of becoming the best house washing company in the area.
Call us today 1-843-696-6121 to learn more about how we can help!