We recently completed a Goose Creek pressure wash for a home in one of their new developments.  Much like Summerville, Goose Creek is building new housing developments at a rapid rate as the Charleston area continues to grow with new residents.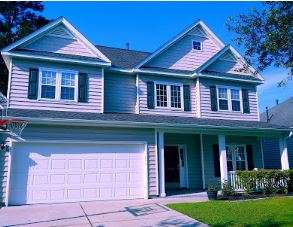 Much like Summerville and North Charleston,  Goose Creek residents have a ton of pollen in their area due to the older trees that inhabit much of Goose Creek.  One thing that we notice when pressure washing Goose Creek homes, is that many of the new developments tend to have more shrubbery than surrounding areas.   
The home that we performed the soft wash on was a classic new home style for the area.  While this house was in great shape, it definitely had plenty of dirt and pollen from the past few seasons.    
One area that was of concern for the area was the porch and railings that surrounded the porch.  Due to the area of Goose Creek that this home was located, there was a ton of insects that left markings on the porch.   As you can see from the pictures, the cobwebs and other markings that were on the siding, were able to come off with our soft wash.  
One thing that we focus on when doing newer homes is to try and get them looking as brand new as possible.   As Goose Creek is a growing population and thousands of residents move in and move out each year to other areas of Charleston,  we have worked with several home owners looking to make their house "just like new" as they try to put it on the real estate market.